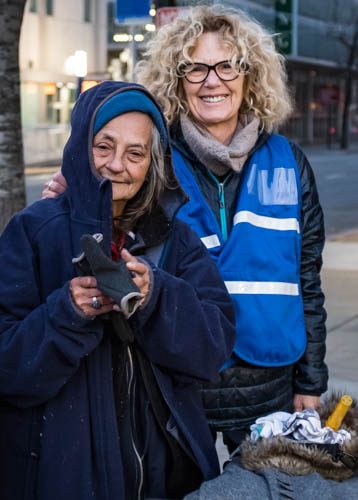 As a Mercy Peddler, I have learned this:  in Second City a simple act of kindness means a lot.  Second City is what I call Sacramento's homeless community. Thousands of homeless men, women and children have no permanent place to sleep.
Being homeless and alone is, as Mother Teresa said, "the worst disease than any human being can ever experience."  The worst disease is a cancer that continues to spread in Sacramento.  It is impossible to ignore the poverty, loneliness, fear and despair that pervades Second City's homeless. The truth is that the homeless are shunned by the community in which they exist.  It is what Sacramento Bee's Cynthia Hubert says it is, "most people never speak to the homeless and avoid making eye contact." 
I have found in the eyes of the homeless what Tennyson described as "homes of silent prayer."  One photo can say a lot about a simple act of kindness.  The photo above was taken  Christmas Day in downtown Sacramento on a cold morning.  Mercy Pedaler volunteer Wencke is shown giving Silvia a pair of gloves.  Often a simple act of kindness will answer a silent prayer.