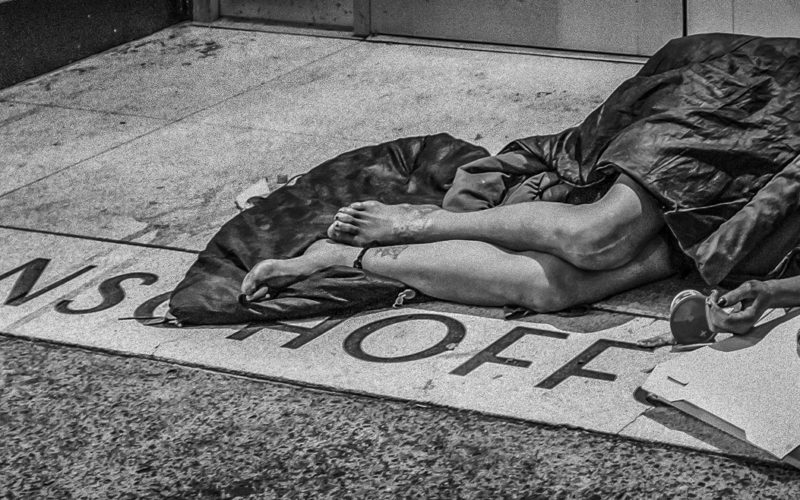 This is a three-part series on Sacramento's homeless: the hard times, mean streets and cruel injustices they endure.  I am a Mercy Pedaler who knows a lot about street crime and justice.  Prior to retirement, I was a prosecutor and former Deputy Executive Director of the California District Attorneys Association (CDAA).  For more than 10 years I taught junior college courses in Criminology and Social Problems to maximum security prisoners.  For the past two years I have walked Sacramento streets and alleys documenting in my photography and journalism what I have seen and learned.
Part 1:  Hard Times
There is a homelessness epidemic in the Golden State and it is growing. The overall homeless population on the West Coast grew by 14 percent over the past two years, with the unsheltered climbing 23% to 108,000.  Twenty-five percent (25%) of the nation's homeless population is in California, 68.2% of whom are "unsheltered"— a term used to describe the thousands of people living on the streets, under freeways, in alleys  abandoned buildings, fields and parks in urban areas.  More would be labeled homeless if these were annual counts rather than point-in-time counts.
Thirty-nine percent (39%) of the nation's chronic homeless population, which is defined as those individuals that have lived on the streets for over a year and are suffering from mental illness, reside in California. In Sacramento County there are around 3,500 people that are currently homeless.
The statistics that follow not only provide insight about the homeless crisis in California and Sacramento, but are also indicators about larger social, economic and political problems in our society.  The figures are impossible to ignore.
Sacramento's Homeless.  In 2017, 3,665 people were living without permanent shelter in Sacramento County, the highest number of people living without permanent housing in the history of Sacramento. This represents a 30% increase from 2,822 people the last time the homeless population was counted in 2015. There are more homeless people in Sacramento County than the population of Sierra County (2,967), California.

Health and Homelessness.   Homelessness and health are inextricably linked. The average homeless person has a life expectancy of 47 years, compared to 77 for the rest of the population: a difference of 30 years. The life expectancy for homeless women is just 43 years. One (1) homeless person a week dies on Sacramento streets.
A serious physical or behavioral health crisis or any long-term disabling condition may lead to homelessness; homelessness itself can exacerbate chronic medical conditions. One can become chronically homeless when his or her health condition becomes disabling and stable housing is too difficult to maintain without help.
According to the U.S. Department of Housing and Urban Development, people living in shelters are more than twice as likely to have a disability compared to the general population. In 2017, 20% of the homeless population reported having a serious mental illness, 16% conditions related to chronic substance abuse.   
Due to the increase in factors such as substance abuse, mentally ill, homeless individuals are more likely to be incarcerated.  Every single state in the United States arrests more mentally ill people than it hospitalizes.
Nearly one-third of all visits to the emergency room are made by people struggling with chronic homelessness.  Conditions such as diabetes and heart disease, are found at high rates among the homeless, sometimes three to six times higher than that of the general population. In 2017, more than 10,000 homeless people had HIV/AIDs. Eighty percent (80%) of emergency room visits made by people struggling with homelessness is for an illness that could have been treated with preventative care.
Fifty percent (50%) of the homeless population is over the age of 50. These individuals often face additional health and safety risks associated with age. They are more prone to injuries from falls, and may suffer from cognitive impairment, vision or hearing loss, major depression, and chronic conditions like diabetes and arthritis.
There is not one hospice for the end-of-life homeless in California.  Sacramento's Joshua's House will be California's first homeless hospice (see Joshua's House at https://www.thehcri.org/our-programs/joshuas-house/)
Homeless Kids.  In the United States almost 41 million people live in poverty, 18.5 million of them in extreme poverty, and children account for one in three poor.  The United States has the highest youth poverty rate among industrialized countries.
Almost 40% of the homeless in the United States are under 18.  From 2016 to 2017, the largest increases in homelessness were among unaccompanied children.  Homeless youth are typically defined as unaccompanied young people ages 12 and older who do not have a permanent place to stay and who are living in shelters, on the streets, in cars or vacant buildings, or are "couch surfing" or living in other unstable circumstances.  The main cause of youth homelessness is physical, sexual, and/or emotional abuse from parents or guardians.
In the United States, as many as 20,000 kids are forced into prostitution by human trafficking networks every year.  According to a study of youth in shelters, nearly 50% reported intense conflict or physical harm by a family member as a major contributing factor to their homelessness.  Fifty-seven percent (57%) of homeless kids spend at least one day every month without food.
Veterans.  More than 48,000, or about 8% of the U.S. homeless population, are veterans. This represents a 35% decrease since 2009. A large number of displaced and at-risk veterans live with lingering effects of post-traumatic stress disorder (PTSD)  substance abuse and mental illness.  Homeless veterans are most likely to be males between the ages of 51 and 61 (43%).  In the next 10 to 15 years, it is projected that the number of homeless veterans over the age of 55 could increase drastically.
The Costs of Homelessness.  In 2012, United States Secretary of Housing and Urban Development Shaun Donovan stated, "Between shelters and emergency rooms and jails, it costs about $40,000 a year for a homeless person to be on the streets."  Donovan's statement is consistent with the 2009 study "Where We Sleep:  The Costs of Housing and Homelessness in Los Angeles." The Los Angeles study followed 10,193 homeless individuals and found that the typical public cost for services for residents in supportive housing was $605 a month. For the homeless the cost was $2,897 or about $35,000 per year.
Given these figures, Sacramento's 3,500 homeless cost taxpayers approximately $140 million per year.  Homelessness takes a toll on more than just people––the encroachment on sensitive habitats is becoming a statewide conservation concern. Semi-permanent "tent cities" in natural areas endanger humans and special status-species.
Trash, human waste and other refuse from homeless encampments pollute waterways and our public city spaces. Since public restrooms and trash receptacles are limited, and because many businesses prohibit the homeless from accessing restrooms, homeless people are forced to use whatever location they can find to dispose of their trash and other waste. This phenomenon results in a public health hazard and contributes to additional city costs.
In April, 2018 Sacramento County officials warned residents about high levels of E. coli in the American and Sacramento Rivers.  Testing showed nine (9) sites were above acceptable U.S. EPA levels at some point this year.  At two sites in February and March E. coli levels were more than seven times the contamination threshold.
Also in April, 2018 Caltrans workers filed a grievance with the state over the conditions they face when clearing homeless camps. The grievance asks Caltrans to establish properly outfitted hazmat crews to clear encampments, and vaccinations for the workers in the hazmat crews.
***
At the beginning of 2018 California surpassed the United Kingdom becoming the world's fifth largest economy.  By any standard California is one of the richest economic entities in the world.  However, extreme poverty and chronic homelessness persist.
Homelessness seriously impacts the community.  It affects social cohesion, social inclusion and social harmony.  Homelessness alienates and disempowers those experiencing it and affects the quality of life.  Moreover, marginalization and isolation from the community perpetuates the cycle of poverty.