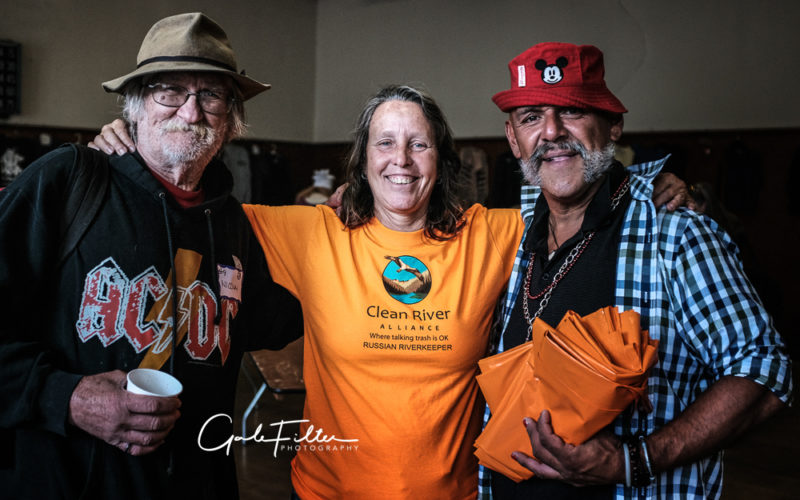 The Mercy Pedalers' mission is a simple one:  to be present by reaching out to men and women experiencing homelessness on the streets.   It is all about making relationships.  As Sister Libby says,  "When you can meet someone eye-to-eye, they feel like they're worthy. They feel like they mean something. It's simple as that. How can you make a change if you don't feel good about yourself?"
In a recent Sacramento News & Review article about Sister Libby and the Mercy Pedalers, Melanie Tadakawa, who is homeless,  stated: "Being homeless, we don't have much to do. It would be cool if they actually employed homeless, because wherever we go, we always try to clean up, pick up garbage."  See John Flynn, "Mercy on Wheels" Sacramento News & Review (September 6, 2018)  https://www.newsreview.com/sacramento/mercy-on-wheels/content?oid=27070179
Interestingly, in Sonoma County the Clean River Alliance (CRA) runs a program where the homeless are seen as a solution to pollution, and not the problem.   I had the opportunity to spend time with CRA Director Chris Brokate and his staff and observe not only how the power of presence provides comfort to the homeless, but how it is also instrumental in protecting the environment.  Here is "where it is ok to talk trash."  The homeless actually participate in river cleanups and trash removal. 
In 2014, after seeing the devastating effects of trash coming down the Russian River from heavy rains and entering the ocean, Mr. Brokate began getting together with a small group of volunteers to do cleanups. From this original group, known as the Garbage Patch Kids, CRA now organizes public cleanups throughout the Russian River watershed.
In 2017, CRA organized over 200 cleanup events, involving over 1000 volunteers, many who are homeless, removed over 170,000 lbs. of trash from creeks, the Russian River, and ocean beaches.  Much of the trash was attributed to homeless camps.  Brokate enlists the homeless in helping to haul their trash out, provides free trash pickup to river homeless camps and helps connect homeless to other available services. 
CRA has been recognized by Sonoma County and State agencies for its dedication and commitment to protecting the environment. For example, last year the Sonoma County Board of Supervisors honored CRA.  Supervisor Lynda Hopkins said, "This has gone beyond just removing trash from the riverbank. You have created community. You have brought together Guerneville, and the whole river with a common purpose."
CRA tracks places where trash needs to be removed, plans events and rounds up volunteers. The CRA enlists the homeless to participate in cleanup events in exchange for vouchers for transportation, movie passes, meals and other incentives.  Orange Garbage bags are provided to the homeless, and on designated days CRA picks up the trash. 
I went out with CRA on a garbage run.  In less than two hours we picked up more than 20 bags of garbage containing 560 pounds of trash (the county dump provides weigh slips) from Guerneville homeless camps.  The following day CRA picked up 860 pounds of garbage in Healdsburg.  Kudos CRA.  Those Garbage Patch Kids are amazing!