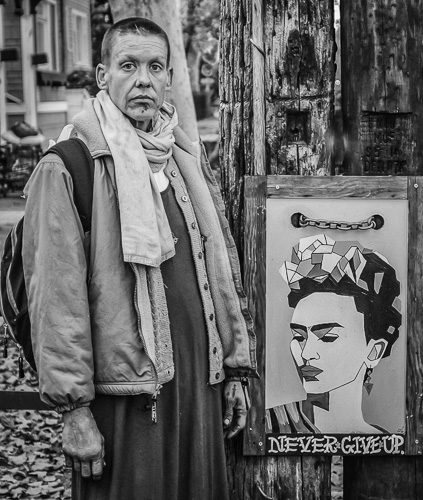 I'm a Mercy Pedaler.  It's a cold Friday morning before Thanksgiving and I am doing my dawn patrol in Midtown.  Not much stirs in Midtown at 6:30 a.m.  It's mostly coffee shops, a few early hair appointments and the homeless.  The sun is just coming up. 
I first see Melanie hunched over pushing a cart in an alley not far from Temple Coffee, a popular place on K Street.  I introduce myself to Melanie and ask if she could use some socks, gloves and a couple of granola bars.  Melanie accepts what is offered, but something is not right.
Melanie tells me that she has been homeless for 13 years.  She has cancer and is not doing well.  I ask if her jacket is warm and she tells me that it is.  Melanie's friend Darrell gave her the jacket a few days earlier.   I know Darrell,  He has been homeless for 25 years.  For me, this is a special story: one homeless person taking care of another homeless person in a time of need. 
Melanie and I chat for awhile.  I take Melanie's photos under the Madonna on the side Poli's barber shop and the Frida that is on a telephone pole in front of the shop.  I also give Melanie some money for coffee.   Hopefully, we will see one another again.